We are wrapping up our first year of ACTion, the Advocacy Center's teen activism group! This article includes a look back at our first event, which helped kick off Sexual Assault Awareness Month, our presentation to Ithaca City School District's Board of Education, and a look ahead at some of our plans for next year. 
The Hunting Ground Screening
On Friday, April 5th, ACTion hosted its first event: a screening of the documentary The Hunting Ground. This film focuses on the presence and impact of sexual assault on college campuses, and the inadequate measures taken by the school administration to respond to the assaults. The documentary tells the story of students who mobilized and advocated to change college and university responses to reports of sexual assault. The screening was followed by a group discussion with ACTion members, student activists from Ithaca College, and an advocate from the Advocacy Center. In addition, we tabled outside of the theater, displaying information about Take Back the Night and Advocacy Center resources. We had a good turnout, and hope that we can make this the kick-starter event to a great series of community conversations.
Presenting to ICSD's Board of Education
On Tuesday, June 11th, ACTion members presented to Ithaca City School District's Board of Education. Our presentation included information about who we are, what we accomplished during our first year, and a look ahead at what we hope to do in the future.
Click here to watch a video of our presentation beginning at the 2-minute mark.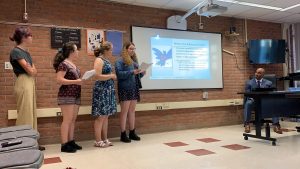 Some ideas for next school year
Grow ACTion! We hope to expand to more schools within Ithaca City School District and to more schools throughout Tompkins County. 

Consent Rocks! Concert:

We're planning a Consent Rocks! concert on Friday September 20th to showcase local youth performers. This event will raise awareness of ACTion, teen access to Advocacy Center services, and will also serve as a fundraiser. With the money we raise, we plan to purchase wristbands and vinyl stickers to raise awareness about ACTion and teens' access to Advocacy Center Services. 

Toolkits:

We also hope to help develop toolkits for schools and teens to use during the main awareness months that the Advocacy Center observes (October = Domestic Violence Awareness Month, February = Teen Dating Violence Awareness Month, April = Sexual Assault Awareness Month). These toolkits will hopefully include sample social media posts, poster ideas, language for announcements, and ideas for tabling. 

Community Conversations:

We thought our

Hunting Ground

event went very well and sparked some really important conversations. We hope to plan more events and create more opportunities for people in our community to continue talking about these important issues. 
Also in this issue: