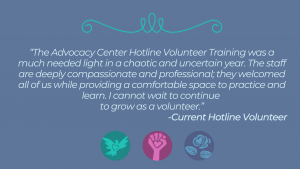 Volunteers play a critical role in allowing our agency to provide high quality, effective, and 24 hour services to survivors and those supporting survivors in our community. We appreciate your interest in joining us in that work and invite you to look further at the different opportunities we currently have available. This page is updated periodically so please check back or email info@actompkins.org if you have a specific skill you are looking to share with the agency.
Ways To Volunteer:
NEW OPPORTUNITY! Fundraising Volunteer

We are currently planning the 21st annual "Kids Are Our Business," our agency's largest fundraiser to support services and programs for abused youth. 
We are in need of fundraising 

volunteers

 to help make this event a success. As a 

volunteer

 in this capacity, you play a pivotal role in securing community sponsorships to help us meet our goal of raising $40,000 to support youth survivors in our community. 
Specifically, we are looking for 

volunteers

 with the following availability and desired skills:
Attend three monthly virtual meetings (time/dates TBD) in February, March and April.

Weekly availability (2-3 hours on average) for assigned follow-up tasks.

Comfortable calling prospect sponsors. Training will be offered during the first meeting along with a phone script, step-by-step instructions and contact list.

Ability to 

work

 independently and provide weekly progress updates on a shared spreadsheet via Google drive.
All 

volunteers

 will receive a complimentary ticket to attend our cocktail event on Wednesday, June 8th (4-6pm). If you are interested in signing up, please contact Stacey at sskala@actompkins.org as soon as possible.
---
Take Back the Night Collective
Take Back the Night is an international awareness event held annual in Tompkins County in April during Sexual Assault Awareness Month. Members of the Tompkins County community, Cornell , TC3, Ithaca College, and local high school students join together to experience a powerful evening of music, spoken word, speakers and reflection focused on ending domestic and sexual violence. The event is organized and coordinated by a community collective that meets regularly throughout the spring.  For more information on Take Back the Night and the Collective email info@actompkins.org.
---
Board of Directors
Board of Directors and Committees are made up of volunteers who review programs, establish policies, organize fundraising and ensure fiscal stability. If you would like more information on becoming a member of our Board of Directors or Committees, contact our info@actompkins.org.
---
24 Hour Hotline Volunteer
Thank you for your interest, space for the January 2022 Hotline Volunteer Training is currently full. Applications are still being accepted for our January 2023 Training.
Hotline Volunteers help staff our 24-Hour Hotline and provide crisis counseling, advocacy, support, and referrals to adult and youth victims of domestic violence, rape, sexual assault, and sexual abuse. Volunteers are required to make a minimum one-year (two semester) commitment that includes four hotline shifts per month. Comprehensive training is provided. 40 hour training commitment includes evenings and weekends. Hotline volunteers do not work in a call center. Shifts are done remotely. 
To apply click here: Hotline Volunteer Application
If you have any questions please email us at info@actompkins.org.
---
Community Outreach
Would you like to help represent our agency at community events? Community Outreach Volunteers will learn about our agency and assist with event coordination, fundraising, outreach and other tasks. If you are interested in participating, please fill out our Volunteer Interest Form. We are currently looking for volunteers with the following skills: Photography, Editing (audio/video), Blogging, Fundraising, Graphic Design.

---
Teen Volunteer Opportunities 
Teens volunteer with us through both short term projects and events (including Take Back the Night, awareness month events, donation drives and fundraisers) and on an on-going basis as part of our student activism group, ACTion (Advocacy Center Teens). To learn more about these opportunities, please fill out our Teen Volunteer Interest Form and our Youth Educator will follow up with you.
---
Enough Abuse Tompkins Trainer
*Due to Covid-10 we are not currently accepting Enough Abuse applications. The Enough Abuse Campaign is a grassroots community mobilization child sexual abuse prevention program that relies on the efforts of community volunteer trainers. Enough Abuse Campaign volunteer trainers will receive 2 full days of training to prepare them for their important role in educating adults on child sexual abuse and their role in prevention. Trainings are done in pairs. The commitment is 2 trainings per calendar year. If you would like more information about being an Enough Abuse Tompkins Trainer, please fill out our Enough Abuse Application Form and email it to our Community Engagement Specialist.
For all other inquiries, contact our info@actompkins.org.