by Johnna Margalotti, Advocacy Center Intern
April is Sexual Assault Awareness Month, a campaign that educates communities across the nation on sexual violence and how to prevent it.  
This past Friday, April 12th, we recognized the Day of Silence and asked ourselves the question: What voices are we not hearing in our conversations about sexual violence?
Conversations about sexual assault tend to skew heterocentric, highlighting violence perpetrated by cishet men against cishet women. And while patriarchy sustains a rape culture that enables men to perpetrate violence against women, it also functions to police the gender expressions and sexual identities of queer folks through violence. 
As a result, harassment and assault disproportionally impact LGBTQ people. One national school climate survey conducted by GLSEN in 2013 found that four out of five LGBTQ students reported verbal, sexual or physical harassment at school. Among sexual minorities, queer men are the most targeted; according to the CDC, four in 10 gay men and nearly half of bisexual men (47%) have experienced sexual violence other than rape in their lifetime. Bisexual women are also highly targeted, as the CDC found that 46% have been raped in their lifetime.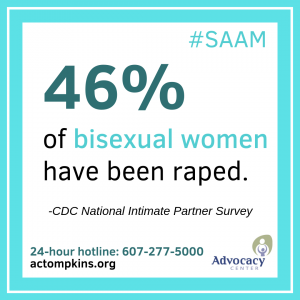 Gender non-conforming individuals (including those who identify as trans or non-binary) also experience staggering rates of violence. According to the 2015 U.S. Transgender Survey, nearly half (47%) of respondents were sexually assaulted at some point in their lifetime and one in ten were sexually assaulted in the past year. These numbers are even higher in communities of color: 53% of black respondents have been sexually assaulted in their lifetime and 13% reported sexual assault in the last year.  
The same power dynamics that marginalize queer communities and make them uniquely vulnerable to harassment and violence also work to silence queer survivors and their stories. Although sexual violence is often perpetrated against queer folks in order to reinforce patriarchal gender relations, queer folks also perpetrate sexual violence against one another within their relationships (as do non-queer people). Unfortunately, because of the overwhelming stigmatization of queer relationships in our culture, there is a compulsion to sanitize these relationships and overlook such interpersonal violence. In doing so, we ignore the voices of LGBTQ survivors and reproduce their marginalization.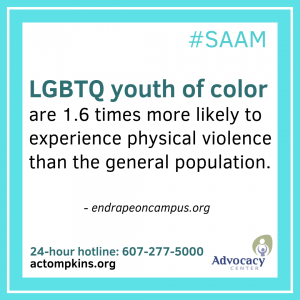 Ultimately, it is an opportunity to situate Day of Silence in the broader context of Sexual Assault Awareness Month so as to recognize that sexual violence impacts communities of all ages, identities, and orientations. As you continue to speak out and stand up against sexual violence this month, remember to make space for queer voices.