What is your position at the agency?
Hi there! I'm a Senior Domestic Violence Advocate and I'm co-located at Child Protective Services. That means I split my time between the local Social Services building, my cubicle surrounded by caseworkers, or out in the field with folks who are involved with Child Protective Services. 
This position was created about 5 years ago because we know that there is a tremendous correlation between families with child protective involvement and domestic violence perpetrators living in the home. According to the Office of Children and Family Services, between 30 and 60 percent of families involved that have child welfare involvement also suffer from being subjected to a domestically violent offender.
How long have you worked at the Advocacy Center?
I started volunteering at the Advocacy Center in 2014 on our 24-hour Hotline (607-277-5000). It was a great way to get to know the agency and to serve the community. After about a year serving in that capacity, I applied for the co-located DV CPS position. I have been at the Advocacy Center ever since.
How have you been able to support individuals and our broader community in your role?
One of the great things about the DV CPS collaboration in Tompkins County  is that we highly value cross-training and learning about the roles each agency plays in our communities. Through the co-location, I have learned so much about the child welfare system and have been able to pass that knowledge on to my coworkers, our clients, and our community. The child welfare system can be very confusing, overwhelming, and intimidating for the families we work with. Families have told me that having someone from outside that system walking alongside them through the process is a relief. 
No one wants a stranger coming into their home even if that stranger is trying to help. It naturally feels like that stranger is going to judge them and their family culture. I try to make sure that every family I work with knows that I am not here to judge and I am not here because I have it all figured out. I do believe though, that all people have the right to be safe.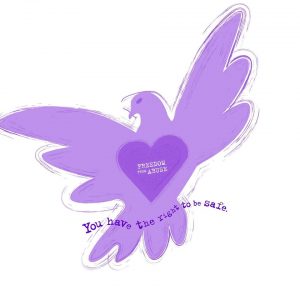 Most of the time, the people impacted by domestic violence that I work with are women and children. When I talk to a woman, it is easy for her to be very down on herself. One of the things I know to be true though, in every case that I have worked on, is the mothers love their children. The mothers I work with are incredible and they are protective. They are resilient and stronger than they know. 
I make it my goal to learn  about all the ways that the mothers I work with protect their children on a daily basis. They are maintaining stability in the home despite the violence, whether that violence is physical or, more often, one of the multitude of other ways offenders are violent. They are promoting a nurturing environment for their children. They are the number one support on the road to healing for their children according to author Lundy Bancroft. 
What would you like survivors in our community to know about our agency?
We know that domestic violence is present statistically. And, I work with a number of people who are intimidated by that term. Some people believe the term really doesn't apply to them because maybe their intimate partner never hit them. I would like all people to know that you have a right to be safe and to feel safe. Feeling unsafe often stems from a look or a tone of voice. I would encourage anyone who feels unsafe in their home to call our 24 hour hotline. We want to help.
What is the most rewarding part of working at the Advocacy Center?
Bearing witness to survivors resilience. Also I love support groups – they are so – supportive!
Five for Fun:
1) If you could have any superpower, which would you choose?
Living in Central New York, I would love to be able to make the sun shine and flowers sprout up wherever and whenever I want. Or, being able to talk to animals. Can I have both?
2) If you could meet five people, living or dead, who would you want to meet?
I think it would be very cool to have a big family reunion where all of my relatives that passed on too early could get together for a picnic. I would just love to hear the stories that come out of that picnic. Why can't we have ghost parties like in Harry Potter?
3) If you could be a character from a book or movie, who would you be?
Lorelai Gilmore because of her love of coffee and her witt. 
Also Hermione Granger – that hair.
4) What would you name your autobiography?
A Preacher's Kid's Guide to Becoming Liberal 
or
The Problem With Life Is… It's Just So Daily
or
What Horses Taught Me About Life
5) Motto or personal mantra?
Believe there is good in the world. Be the good.
ALSO IN THIS ISSUE: