Take Back The Night!
April 30, 2021 @ 6:00 pm

-

7:00 pm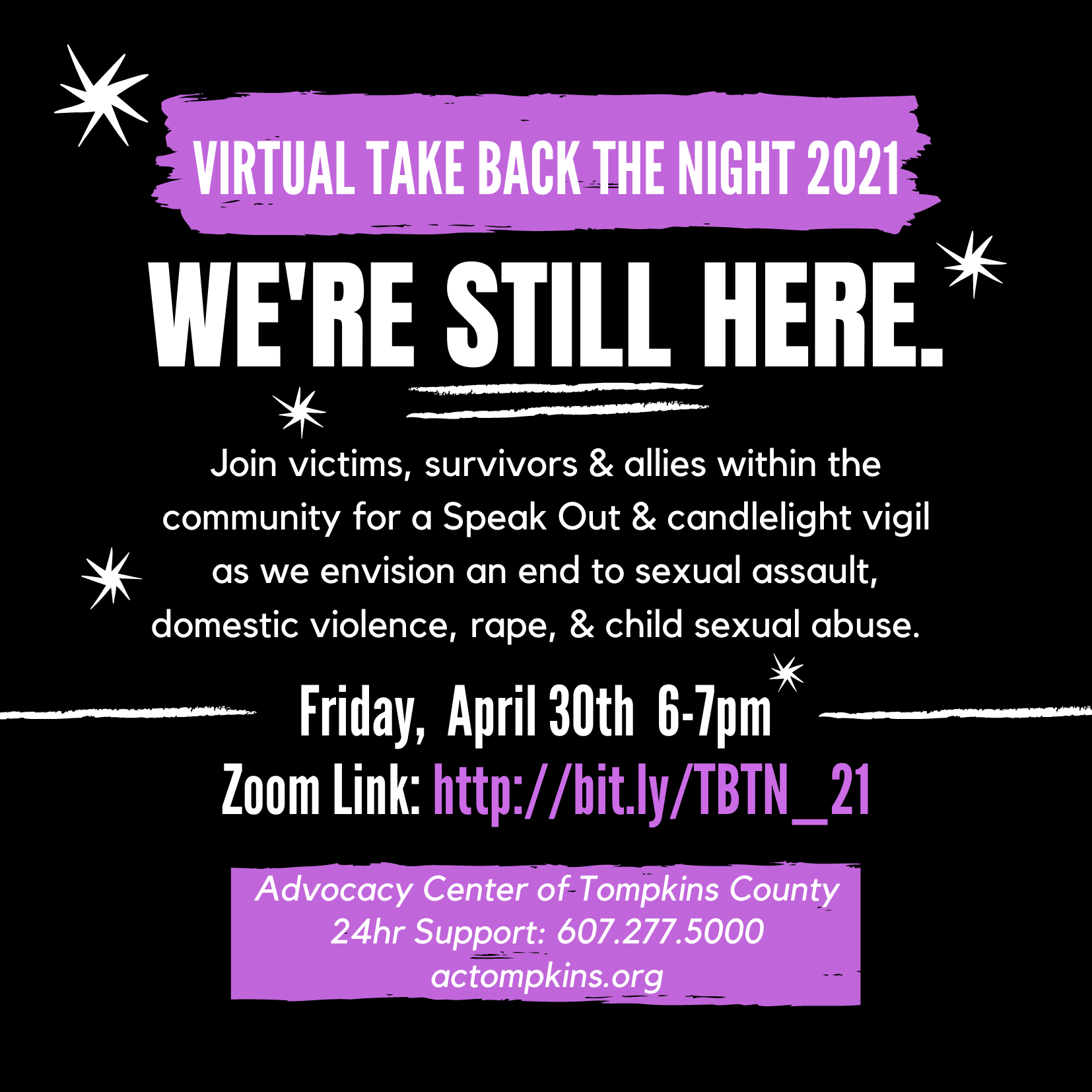 We will be honoring Take Back The Night (TBTN) virtually this year!
This Friday, April 30 from 6-7pm join The Advocacy Center and allies in Zoom for a Virtual 1-hour Take Back the Night.
TBTN is an event that demands and calls for the end of Domestic and Sexual Violence. The 2021 theme, chosen by the TBTN Collective members, is "We're Still Here". This theme was chosen because: 42 years after the first Take Back the Night march in Ithaca, we're still here. 27 years after the Violence Against Women Act was passed, we're still here. Emerging from a global pandemic where domestic violence and child sexual abuse is on the rise, we're still here. After being isolated for a year under stay-at-home orders with the people who harm us, we're still here. As survivors, we're still here and stand in solidarity to call an end to sexual and relationship violence. The violence has not stopped. The harm has not stopped. The silencing and looking the other direction has not stopped. And through it all, we're still here.
The heart of TBTN is the Speak-Out portion of the evening where survivors and allies in the Ithaca community speak about their own experiences with domestic and/or sexual violence. The Speak Out is an opportunity for you to tell your story in any format you want and will be heard by all of the attendees. Since TBTN is taking place online this year there are additional considerations we ask people to consider when choosing to participate in the speak out, including our inability to control or monitor if it is recorded by an attendee.
After registration, Naomi from the Advocacy Center will contact you to discuss this more.
This year, TBTN is a one-hour virtual event, and the live speak-outs will be limited to 7 people. We're asking Speak-Outs to be no more than three minutes to ensure we can hear all speak-outs within the one-hour time frame.
If you find that all the slots for the 2021 Speak-Out have been filled and you still want to share your experience– you can! We will be creating space to post stories submitted to us on the Ithaca TBTN website. Please know, staff may follow up with questions or to discuss submissions and we cannot guarantee posting.
Thank you and we look forward to standing with survivors of sexual and domestic violence at Virtual Take Back the Night 2021!