Beginning in 2015, Tompkins County was awarded funding to become a Safe Harbour County by New York State. This meant that we were provided resources to begin the process of formally developing a coordinated response, raising community awareness, and educating community members around the issue of sex trafficking of youth, referred to as the Commercial Sexual Exploitation of Children (CSEC).
The first step in this work was the establishment of the Tompkins County CSEC Critical Team. Led by the Tompkins County Youth Services Department a wide array of nonprofit and systems based professionals began meeting regularly to discuss trends with youth vulnerabilities and reports of youth exploitation. With this information, the CSEC Team looked for what the county needs to effectively respond, as well as opportunities for education and awareness raising. The CSEC Team continued to meet quarterly for the past 7 years. We are excited to share some highlights of what has been accomplished!
2015, Girls Education & Mentoring Services (GEMS) 3-Day Summit
 Nearly 40 local professionals working with youth participated in a 3 Day Training Program with GEMS staff to better understand what CSEC is, how to effectively identified if a youth is being victimized, and how to support their healing.

2016-2017, Development of a screening tool, educational materials, & the Listen For the Signs Campaign
One  of the first CSEC Risk Screening tools in NYS was created by Tompkins County to assist youth serving professionals in identifying youth experiencing or at risk of CSEC in the community.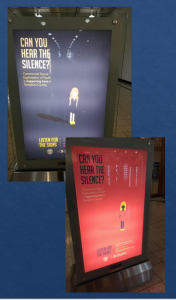 Tompkins County launches the Listen for the Signs Campaign. With the support of Iron Design, the team developed posters, bus ads, billboards, and mall blades to raise community awareness about what CSEC is and that it is happening in Tompkins County. Billboards were placed throughout the county including in Ithaca, Lansing, Newfield, Caroline, and Groton.
The campaign also included educational materials available to adults in the community looking to expand their understanding of CSEC and ways to support youth survivors.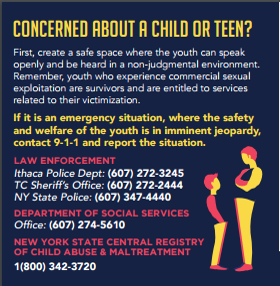 2017-2018, Professional & Community Educational Workshops begin
Members of the Tompkins County Critical Team become certified to offer an 8 hour training, Identifying and Supporting Survivors of Commercial Sexual Exploitation of Children, newly designed by the NYS Office of Children & Family Services and GEMS. This training is for adults working with youth to not only help them recognize CSEC but build their ability to effectively respond to youth survivors and support their healing. In addition to many other educational workshops on CSEC, the OCFS training has been offered in the county free of charge at least once a year since 2017. As of 2023: teachers, parents, emergency services dispatchers, youth serving organization staff, Department of Social Services staff, law enforcement officers, victim advocates, and youth probation officers have been among those who have participated in educational workshops.
2019, Full Day Training Summit for regional Medical Providers

Human Trafficking: A Medical Response is offered to regional medical providers, at no cost to medical providers and front line youth workers from Tompkins and neighboring counties. Workshops built individual knowledge and skills but also provided information about best practice policies for the medical practices.
Presenters included Jasmine Grace a survivor of sex trafficking, author, and activist as well as Tara Hughes both from HEAL Trafficking, an organization dedicated to ending human trafficking and supporting its survivors from a health perspective.
2020, 2 Day Virtual Conference: Not Even Remotely Your Typical Tech Safety Summit.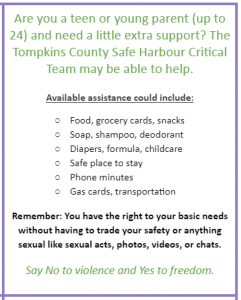 With the onset of the COVID-19 Pandemic, the critical team shifted their focus to direct support for vulnerable youth including food, clothing, diapers, and other basic necessities. Traffickers often use these needs are ways to exploit youth.
Hosted a Virtual Conference approaching tech safety through the lens of Increasing Connection & Wellbeing in a Digital World. Workshops included a keynote address "Growing Up in the Age of Porn: Navigating Sexualized Elements of the Digital World" by Janis Whitlock, Cornell University Bronfenbrenner Center for Translational Research, and workshops on identifying grooming in digital settings, the importance of adults building healthy connections with youth within appropriate boundaries, five skills caregivers can use to reduce youth risk, and how local youth recreation and youth organizations are essential partners in youth protection and resiliency. More than 100 people registered for the 5 workshops.
Video recordings of all 5 workshop sessions are available on the Advocacy Center's  youtube page and the Tompkins County Youth Services Page.
2021, Lodging Community Outreach Campaign
With the support of Students Against the Sexual Solicitation of Youth (SASSY), a student-run program of the David M. Einhorn Center for Community Engagement at Cornell University, awareness and response resources were provided to nearly every hotel & motel in Tompkins County.
Establishments were given resource packets including an introductory letter, lodging industry specific toolkit for identifying and responding to Youth Sexual Exploitation and Trafficking, Tompkins County info sheets and mini brochures, posters with contact info for local and national services, and Advocacy Center magnets, pens and brochures. This also supports our local lodging community in compliance with NYS law that requires posting of anti-trafficking resources including the National Trafficking Hotline.
2022, 1/2 Day Virtual Summit with Rachel Lloyd, GEMS Founder & CEO & Traveling Awareness Display is launched
As a means to provide more nuanced training and skill building for professionals working with or investigating youth exploitation locally, Understanding Behavioral Change as a Process Not an Overnight Decision with Rachel Lloyd was offered. This workshop explored the complexities of trauma, coercive control, and the GEMS adapted Stages of Change Model & Techniques for Engagement with Trafficked Youth.  In person workshops were also relaunched, allowing for a full 8 hour Identifying and Supporting Survivors of Commercial Sexual Exploitation of Children Workshop to be offered in person for the first time since 2019.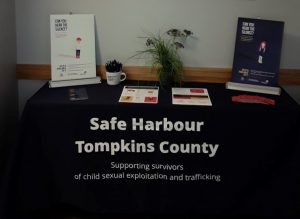 To reach a broader audience, a traveling tabling display is launched and displayed throughout Tompkins County. In 2002, displays were hosted in community services organizations and libraries in Ithaca, Groton, Newfield, and Ulysses.
2023 & Beyond…
We are proud of what has been accomplished but much more work is yet to be done. We need the support of the community to make it happen!
Connect with the TC CSEC Team, request tabling materials, or a workshop, by emailing them from the TC CSEC Team site, Listen for the Signs http://www.listenforthesigns.org/contact

Concerned about a child or youth? Call the Advocacy Center's 24 hour hotline 607-277-5000.